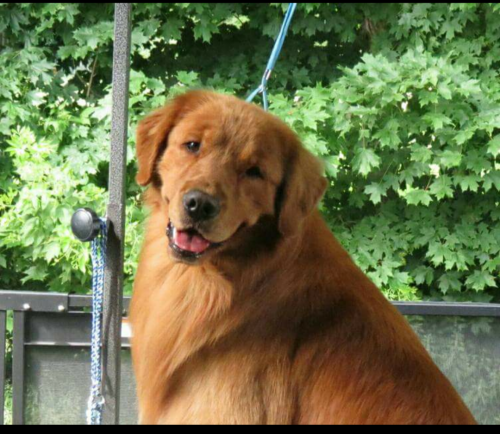 Stud Dog Contract BISS GCH CH Mountain's Hot Pursuit to Sunbolyn, MBISS
SPECIALITY BOB HUDSON VALLEY GOLDEN RETRIEVER SPECIALITY JUNE 2017
finishes at 15 months with 4 Majors
see pedigree below
Whelped: 02/09/2015
 Chasehttp://www.k9data.com/pedigree.asp?ID=669319
Please continue to scroll to the bottom for pedigree photos!!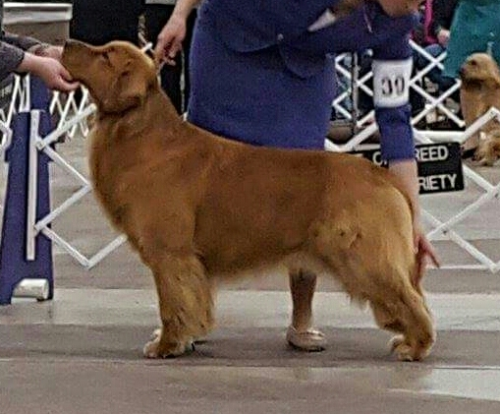 BOSS Maryland Sporting Dog March 2017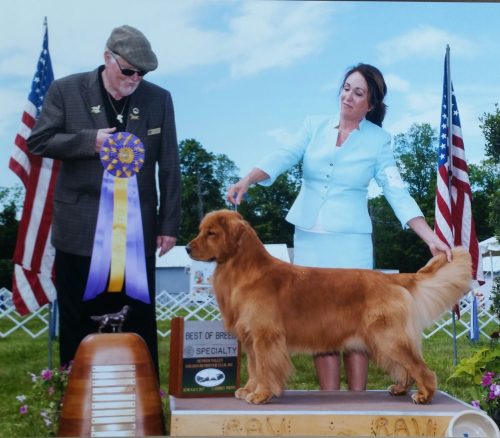 Achievements:  3rd 2015 GRCA National Specialty from 6-9 puppy dog- RWD Syracuse Specialty under Judge Barbra Pepper from 6-9 puppy dog. Another RWD from Donald Sturz +  Multiple RWD from 6-9 and 9-12 Puppy dog.  Watch for Chase to grow up on this page!!
6/17 SO VERY PROUD CHASE NOW CAN ADD TO HIS TITLES A SPECIALITY  BOB FROM  THE HUDSON VALLEY GOLDEN RETRIEVER SPECIALITY, UNDER BREEDER JUDGE BRUCE MCLEAN.  AND HE WAS OWNER HANDLED WHICH MAKES MUCH MORE OF A THRILL FOR ME.
5/17 BOS UNDER JUDGE DYANNE BALDWIN
UPDATE 4/1/16:  2 BISS ( best puppy in Sweeps) one from Gunpowder Golden Retriever Specialty and the other from Maryland Sporting Dog in Maryland
UPDATE 04/27/16 :   Chase has completed his both majors by 14 months.  His first major was owner handles to my great surprise getting a WD/BOW in Edison NJ at 13 months under Dana Cline.  He then went back to back WD/BOW the following weekend in Harrisburg PA with Rachael Kulp handeling.  That completed his 2nd major and another 2 points by 14 months.
UPDATE:  05/08/16 At the New Jersey Pine Barren Specialty Chase takes a 5pt major receiving his 3 major with a WD/BOW under Colette Jayne
5/15/16 Chase takes WD for a point in Lebanon Shows ( owner handled) At 15 months he needs 1 pt to complete his Championship.
5/1/16 Chase takes BOW/WD for a 3 point major in New Castle.  He only needed that one point to finish, but doing it in style owner handled with another major was a very special accomplishment.
Chase came to me from Michele Keene of Mountain's Golden Retrievers and what an honor it is to have him.  He is a wonderful example of  a golden retriever-happy, fun loving, and willing to try anything new.  He is a moderate size dog with correct conformation and a gorgeous coat that  is easy to maintain.
Pedigree of " Mountains Hot Pursuit To Sunbolyn"     aka: Chase

Parents
GrandParents
GreatGradParents
SIRE: GCH CH Valleygold Kinderval's Twice The Spice CGC

 Am GCH CH Hillock Honeybear's Puarple Pizzazz SDHF OS
 Am CH Hillock's Meredreme's Kazaam OS
 BIS BISS Am. CH Hillock She's Got A Way SDHF OD
 CH Valleygold's Island Girl
 CH Colabaugh's Hi Speed Pursuit VCD1 UD, RE, TD, JH, NA, NAJ, WCX, SDHF, VCX, OS
 Valleygold's Valley Girl
DAM: Mountain's Emerald Isle

 CH Cloverdale Tommy Bahama
 Am CH Nautilus Vanilla Ice OS
 Cloverdale Simply Savannah
 Gosling's Deal a mountain Queen RN, CGC, TDI
 Feathercreek's Deuce's Wild
 Am CH Goslings Thanks For The Memories